Braces and Support For Pain Relief, Injury Prevention, and Injury Rehabilitation
Custom Fitted to Help Protect
and Prevent Injury.
Covered by Most Insurances.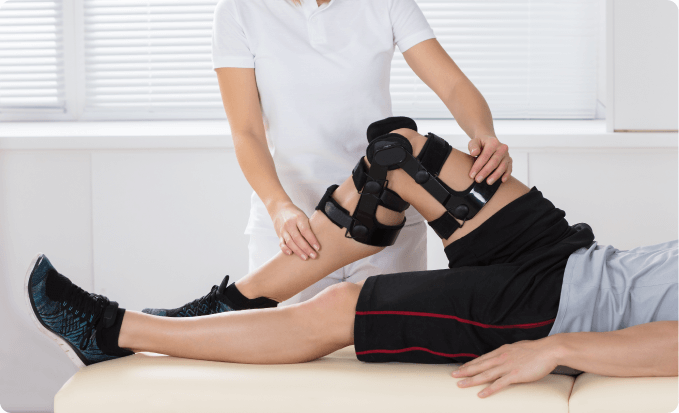 Braces and Support For Pain Relief, Injury Prevention, and Injury Rehabilitation
Custom Fitted to Help Protect and Prevent Injury. Covered by Most Insurances.
Providing Custom Braces and Supports for Various Back, Neck, Foot, and Joint Pain
Combined with our medical, therapeutic, and chiropractic treatments, our patients can advance the rehabilitation process of their injury with our products in the comfort of their own homes. Our treatments and equipment specialize in improving healing and recovery time, with most products being covered by major insurances.
At Atlanta Medical Clinic we have a vast variety of braces & supports available for our patients.
Types of Supports We Offer at Atlanta Medical Clinic
We provide our patients with medical rehabilitation equipment to assist in their recovery process and to keep patients moving – keep them mobile – thriving. We provide custom braces, belts, supports, traction units, and orthopedic shoes that are comfortable to wear on an everyday basis.
Our multidisciplinary medical team takes a whole-person approach in our treatments – and our patients can expect the same level of comprehensive care when they come in for a specialized brace or support.


Lumbar/pelvic braces

Lumbar intersegment traction unit

Cervical intersegment traction unit

Knee braces/ Osteoarthritis specialty braces

Therapeutic pillows

Tens Units
Hot/Cold Packs

Diabetic/ orthopedic shoes

Custom Shoe Inserts

Ankle braces

Cervical therapy collars

Wrist braces
The Benefits of Braces and Supports
By improving your posture, supporting your bones and ligaments, braces and supports can help strengthen injured muscles and relieve stress from injured areas – helping prevent further injury and pain. Braces work immediately by equally distributing your weight and help to realign your joints and bones to where they should be. In addition to reporting pain relief, our patients at Atlanta Medical Clinic say that our program has helped them get back to regular activities and recover more quickly from both chronic and acute conditions.
Whether you're a weekend warrior with a sports injury, a diabetic patient or someone dealing with osteoarthritis, our Bracing and Support program at AMC addresses several health conditions including and not limited to:
Fractures of the leg and foot

Wrist sprains or overuse injuries

Chronic ankle sprains

Diabetic Skin irritations or wounds on the feet

ACL sprain

MCL sprains of the knee

Back pain

Scoliosis

Knee pain as a result of osteoarthritis
When a patient comes into our clinic, we sit down with them to fully understand their medical history and concerns. After an assessment, our team will recommend a unique plan that's customized and built for the patient.
At Atlanta Medica Clinic, we offer a great selection of inventory in-house, as well as the ability to order custom products for our patients. We pride ourselves on using nothing but the best quality medical equipment.
Our licensed Orthotist will take several measurements during your fitting session, making sure that fit, feel, and comfort are at the utmost for you. All of our products are custom-fitted with warranty and follow-ups – making sure that our patients have everything they need to improve their pain and jumpstart their journey to recovery.
Frequently Asked Questions
Do You Take My Insurance?
We work with most insurance plans and, of course, Medicare. However, if we are not in-network on your plan, our insurance experts will assist you in determining coverage for your services. When we get your insurance information, we can review your policy and better answer the question.
Are there additional elements to your treatments?
We are continuing to add new services and treatments to improve our patient's wellbeing. We may recommend a schedule where our patients will require wearing their brace or support for certain durations to ensure long-lasting results.
What If I Have No Insurance?
We also offer cash plans and patient financing. We'd love to help!
What's The First Step?
The first step is to come in for a consultation so we can review your specific situation and physical condition and help you understand how the treatment can help you individually. Call us today to find a time that works best for you. We'd love to meet you and answer any of your questions.