Non-Surgical Knee Pain Treatment Available in Atlanta
FDA-Approved Medical Therapy
Innovative Therapies with
Long-Lasting Results
Get Relief at Atlanta Medical Clinic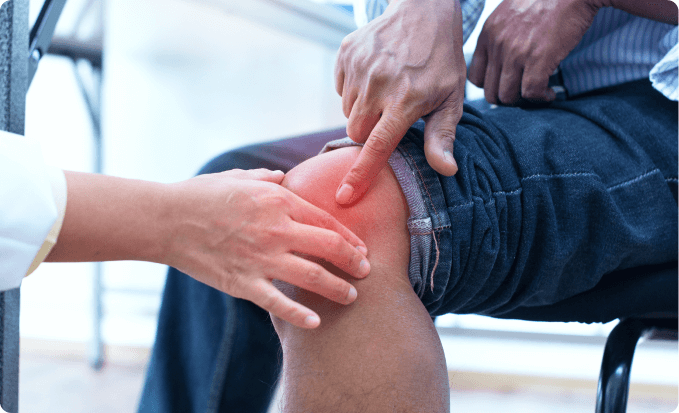 Non-Surgical Knee Pain Treatment Available in Atlanta
FDA-Approved Medical Therapy
Innovative Therapies with Long-Lasting Results Get Relief at Atlanta Medical Clinic
Providing a Proven and Safe Alternative to Knee Replacement Surgery
If you've been told to consider knee replacement surgery, you owe it to yourself to explore your options at Atlanta Medical Clinic. According to a 2018 report from JAMA Internal Medicine, it is estimated that nearly one-third of knee replacement surgeries in the United States are not helpful or necessary to the patient. A failed surgery can result in increased time away from work and family, not to mention long-lasting chronic pain.
Our clinic offers non-surgical solutions to treat knee pain at the source – and we've helped thousands of patients avoid the pitfalls of knee replacement surgery by helping them get out of pain and back to an active, healthy, happier life.
Causes and Types of Knee Pain we Treat
Chronic knee pain is most commonly the result of arthritis in the joint or a chronic condition from an old injury. Osteoarthritis (OA) of the knee refers to the degeneration of joint cartilage and bone, which in turn leads to less mobility, swelling, and pain. If not treated, this will lead to bone-on-bone conditions and ultimately a costly, irreversible knee replacement surgery.
There are many other causes of knee pain in addition to arthritis, such as:
Sports Injuries

Sprains

Tendonitis

Bone Spurs

Obesity

Broken cartilage

Improper Biomechanics

Strains

Age-Related Wear and Tear

Problems with Circulation/ Venous Insufficiency
Knee Pain Treatment Programs at Atlanta Medical Clinic
Our goal is to provide knee pain treatments without painful surgery and rehabilitation. Our treatment programs are based on the latest innovations in medical science and are FDA-approved.
In the knee, fluid that lubricates the joint begins to decline with age. When this knee joint fluid (commonly referred to as synovial fluid) becomes less readily available to the joint, the painful symptoms increase. At Atlanta Medical Clinic, we non-surgically replace that fluid with an all-natural substitute by way of injection. This has proven to prolong the life of the knee joint and eliminate the painful symptoms.
Research has shown that an increase in the synovial fluid to the joint can help decrease the destruction of cartilage, nourish the surrounding tissue, and act as a buffer or cushion to the joint. To complement our injection protocol, your physician may recommend our Alternative Therapy program, which uses natural growth factors that harness the body's ability to naturally heal itself.
In many cases, we have seen that incorporating supportive physical therapy (in addition to the injections) yields the best result. We take a "full-body" approach to your health because we understand that nothing in the body happens in isolation. From low-force chiropractic adjustments to promote balance, custom bracing to support realignment, the medical team at Atlanta Medical Clinic is ready to help you step away from knee pain for good.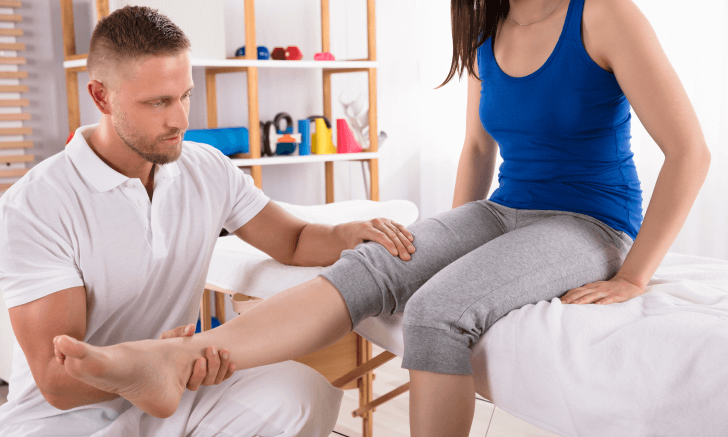 When a patient comes into our clinic, we sit down with them to fully understand their medical history and concerns. After an assessment, our team will recommend a unique plan that's customized and built for the patient.
Knee joint pain associated with arthritis can be treated with an all-natural solution called hyaluronic acid that is painlessly injected directly into the knee. The body produces sodium hyaluronate, naturally since its main purpose is to provide lubrication for the joints. As part of the aging process, the body's ability to produce this lubrication begins to slow down, causing the painful symptoms associated with arthritis.
In order to replenish this fluid in the joint effectively, it is recommended that a series of 5 injections be administered over the span of 5 weeks. For up to 18 months of knee pain relief, our doctor gives one injection per knee weekly, along with prescribing the necessary physical therapy to ensure that the pain level is decreasing, the range of motion is increasing, and that the knee is strong and stable.
Hyaluronic acid injections are covered by Medicare and most insurance programs.
Frequently Asked Questions
Do You Take My Insurance?
We work with most insurance plans and, of course, Medicare. However, if we are not in-network on your plan, our insurance experts will assist you in determining coverage for your services. When we get your insurance information, we can review your policy and better answer the question.
Are there additional elements to your treatments?
We are continuing to add new services and treatments to improve our patient's wellbeing. We may recommend a schedule where our patients will require wearing their brace or support for certain durations to ensure long-lasting results. Our program can also be repeatable.
What If I Have No Insurance?
We also offer cash plans and patient financing. We'd love to help!
What's The First Step?
The first step is to come in for a consultation so we can review your specific situation and physical condition and help you understand how the treatment can help you individually. Call us today to find a time that works best for you. We'd love to meet you and answer any of your questions.