Target the source of the pain and treat that condition with non-surgical techniques.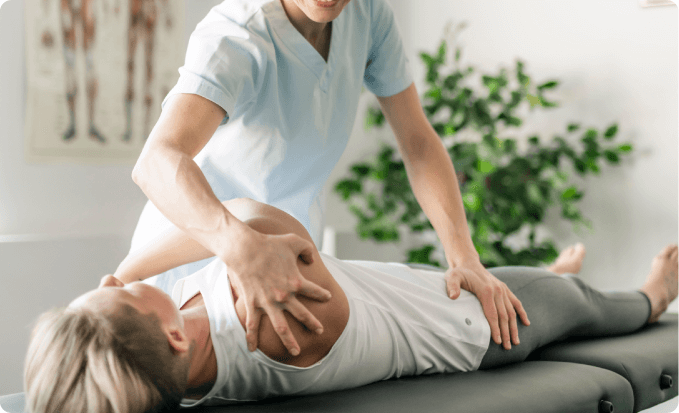 Target the source of the pain and treat that condition with non-surgical techniques.
The pain management protocols practiced by our physicians aim to target the source of the pain and then treat that condition with non-surgical techniques. We have developed clinically tested treatment plans that can be modified for each patient depending on the severity of their pain and progress of their treatments. Our pain management care program is a therapeutic approach that uses a variety of technologies, natural supplemental injections, nerve block injections, and physical therapy techniques to alleviate pain. We are dedicated to establishing the benchmark for pain management in Atlanta and are always on the forefront of medical innovations to provide our patients with the very best.
After diagnosis, our first objective is to calm the muscles and nerves that are causing the pain. Then we need to listen to the body to determine how the muscle and nerves are becoming irritated. Many times there are clear-cut signs in the form of bulging discs or osteoarthritis. Other patients have many underlying factors that are revealed to us once the muscles and nerve inflammation subsides.
Then we use specialized protocols to treat that pain. (Please consider these examples below are only describing one form of treatment. Each patient's individual symptoms and diagnosis require a multidisciplinary approach as part of our pain management care programs.)
For example, if it is knee pain because of osteoarthritis we might use a natural supplement injection (Hyaluronic acid) to aid in increasing joint lubrication. This added lubrication will reduce friction in the joint, coat/protect the nerve, feed the internal tissue and reinforce the cushioning effect thus reducing pain.

If it is a bulging disc in the back we turn to spinal decompression therapy to help reduce pressure on the disc and return it to a natural shape. Thus reducing inflammation and irritation on the nearby nerves.

If it is numbness and tingling or chronic radiating pain from neuropathy we can intervene with nerve block injections and then shift to cold laser and H-wave electro-stimulation.

We also offer medical injections to help our patients manage their chronic pain condition.
There are a variety of treatment combinations that can be used to help reduce and or eliminate pain, but that is only the first portion of our pain management care program. The long-term solution is achieved by physical therapy. Once we have stabilized the pain we will re-train the muscles and correct body mechanics to prevent the return of pain. Rehabilitation is the foundation of our pain management treatment program. Our physical therapists will help you build the necessary strength and mobility but also will teach you exercises and techniques to help you do it on your own.
Our goal is to provide pain relief, avoid surgical procedures, and eliminate the dependency of pain medications. We have been extremely successful with our multidisciplinary pain management treatment programs and are proud of our track record. Contact us at 404.872.8837 to learn more and schedule a free consultation.