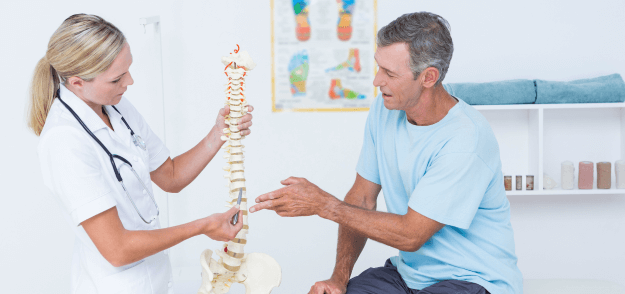 Deciding on the right chronic pain treatment requires a thorough understanding of you — how your pain began, what it feels like, how it affects you, and what types of pain treatments you have tried so far. It also requires inspecting what is going on at the location of your pain and within your central nervous system. Atlanta Medical Clinic provides a toolbox for both traditional and cutting-edge chronic pain diagnosis resources. We generate a complete picture of you so that we treat you as a whole person, not just your symptoms.
When you come into our clinic for your appointment, your physician begins by analyzing the history of your chronic pain. You will examine how your pain began, whether it started as an injury or whether it seemed to appear out of thin air. Your physician will ask which doctors or hospitals you have visited so far, any medications you may have taken, any surgeries you may have had and other pain treatments you may have tried. You will also talk about your family history, other medical conditions you may have, and your general overall health.
When visiting our clinic, it is important to be as honest and detailed as you can with your physician when talking about your medical history. We also need to know as much as possible about how your pain affects you.
Provide details about:
How regularly you feel pain

How long it lasts

How dull or sharp it is

Where the pain is

What makes it feel better or worse
Your physician is there to listen to you, understand you, and support you throughout this process. The more we know, the better we can pinpoint the right treatment for your chronic pain.
Once we have educated ourselves on your history, we may order diagnostic tests to expose what is happening with your body. Here's a look at the tools we use to understand your chronic pain.
Available Diagnostic Tests Include:
Vascular testing is used to create images of soft tissue structures and can also be used to detect blockages in the blood vessels. Ultrasound may be used with other diagnostic procedures or by itself.
We provide diagnostic lab testing for wellness and preventive medical solutions. Our clinicians' focus on wellness and prevention by taking an active role in managing health through diagnostic tests that are designed to help identify problems before chronic conditions and disease develop.
We perform a skin prick test, also called a puncture or scratch test, to check for immediate allergic reactions to as many as 40 different substances at once. This test is usually done to identify allergies to pollen, mold, pet dander, dust mites, and foods. In adults, the test is usually done on the forearm.
The nerves in our bodies are very similar to electric cables. We perform EMG/NCV nerve conduction tests to determine how quickly electrical signals move through particular peripheral nerves. These tests help pinpoint abnormal conditions in the nerves or surrounding muscles.
Digital Motion X-Ray provides accurate, crystal-clear moving images to aid in the diagnosis and pain management of an accident or sport injury, chronic subluxation, or from degenerative diseases. A Digital Motion X-Ray is painless and often reveals permanent ligamentous injuries commonly missed by other diagnostic procedures.
Receiving The Best Pain Treatment
By taking a thorough medical history and using proven medical technology, the doctors at Atlanta Medical Clinic give you the information you need to choose the best treatment options for your condition. Take control of your treatment and stop pain from controlling your life.