At Atlanta Medical Clinic, the wellbeing and safety of our patients is of utmost importance. It always has, and always will be the reason we opened our doors so many years ago – to improve the lives of everyone we can.
During this difficult time, Atlanta Medical Clinic wants our patients to know we are here for you.
If you're in pain, we're here to help.
If you have questions, we're here to answer them.
And if you need treatment, we're here to provide it.
To that end, while taking additional precautions, we now are offering new ways in which we can assist you in this time of crisis.
Injury Care
During this time we are willing and able to see patients outside our usual scope of treatment to care for most types of injury. We want to offer this solution so that patients are able to avoid going to the emergency room, where there's a much higher risk of exposure to COVID-19.
Video Consultations Are Now Available

If you have questions, are in pain, or need our medical attention in any way – we want you to know we are here for you. To that end, we are offering video consultations for all existing patients. Simply call the main number, and a member of our staff will make the arrangements for you to speak with one of our medical professionals.
We Are Still Seeing Patients

During this time, we are still OPEN and serving our patients with extra precautions in place to minimize the risk of COVID-19.
We want to underline the efforts we undergo to maintain the cleanliness and sanitation of our facilities, along with methods of social distancing to protect all patients:
We strictly limit the number of people in the clinic at any one time, and schedule accordingly.
We ask that friends and family members wait outside during your visit.
Anyone with a temperature is asked to cancel their appointment
Our staff is regularly disinfecting surfaces, counters, seats, and door handles throughout the day
Daily sanitation and disinfection of all equipment with professional-grade antibacterial cleaner
Used masks, syringes, wipes, gloves, and tissues are removed safely and are disposed of daily
Hand sanitizer is available in locations throughout our establishment
If you aren't feeling well, please cancel your appointment with no penalty.
We appreciate your cooperation as we take these proactive steps to take care of each other and ourselves. We will update our website daily. For the most up-to-date information regarding coronavirus, visit the WHO or CDC website.
​​​​​​​-Team AMC
---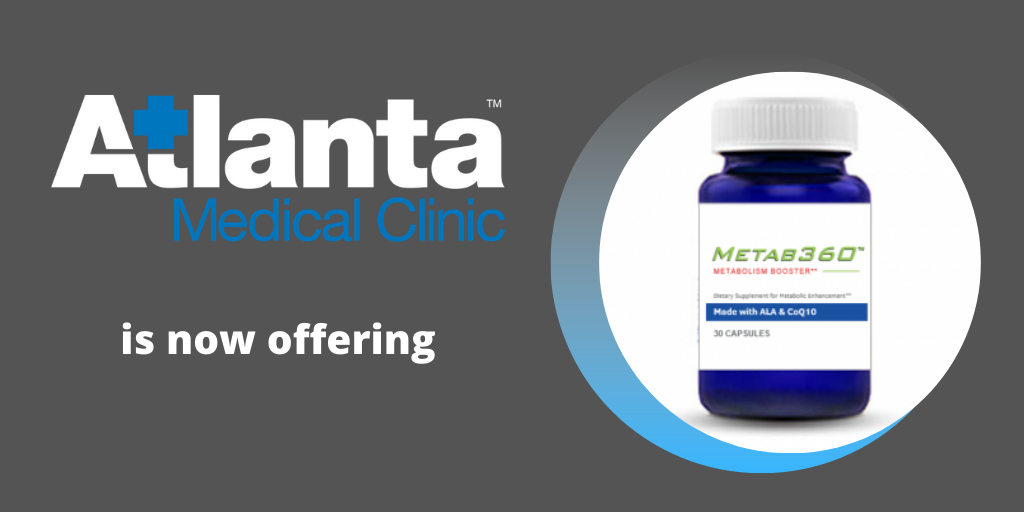 Diabetics: Boost your metabolism at home with our latest supplement! AMC is now offering an advanced supplement especially made for the needs of diabetics: Metab360TM is a dietary supplement consisting of natural products and beneficial ingredients like Alpha Lipoic Acid, Vitamin B12, Coenzyme Q10, and more to help your metabolism to re-establish itself to its peak state. Call us at 404.872.8837 to learn more!